Laetitia & Patrick ne font qu'un. Ils sont un duo d'artistes, ils sont un artiste.
Un soir, ils ont eu une envie. L'envie d'ouvrir un lieu où ils pourraient mettre leurs talents en commun.
Laetitia aime les intérieurs où on se sent bien, chaleureux et audacieux, pleins d'idées, pleins de formes et de couleurs, les atmosphères lumineuses riches en détails.
Patrick aime par dessus tout créer. Designer, artiste, artisan, il crée des objets utiles, décoratifs et toujours surprenants, parfois une oeuvre d'art, parfois un objet fonctionnel et parfois les deux en même temps.
En quelques jours, ils ont trouvé le lieu, un ancien commerce du haut d'Ixelles, à deux pas du parc Tenbosch, et l'ont retapé pour en faire un espace accueillant prêt à dévoiler toutes leurs trouvailles, toutes leurs créations et toutes leurs idées de décoration.

Le rez-de-chaussée de la rue des Mélèzes abrite le magasin et les caves, leur atelier.
TILT the shop et TILT studio étaient nés.
TILT ? Parce qu'ils ont tiltés. Tiltés sur ce désir commun. Et aussi parce que le seul vrai critère de sélection des objets et des créations présents dans le magasin, c'est qu'ils tiltent tous les deux en les voyant ou en les imaginant. Quand ils aiment, ils échangent un regard, ils tiltent.
Parce que TILT c'est aussi ça, Things I Love Today, le magasin des choses et les intérieurs qu'on aime.

L'univers de TILT est régit par les coups de coeur, par les formes et les couleurs, par les lumières et les odeurs, parce que pour eux, la vie est belle et elle mérite tout ça. Ensemble, ils ont créé un lieu surprenant et unique, plus proche de l'esprit éclectique et coloré des villas de San Fransisco que du design scandinave. Ils ont imaginé une sorte de wunderkammer harmonieux où se côtoient du petit mobilier, des oeuvres d'art, des lampes, des vases, des parfums, des bijoux et mille et une autres idées où chacun peut dénicher le petit ou gros cadeau à offrir ou à s'offrir.
On retrouve chez TILT des créations «made in here» de TILT studio, des oeuvres d'art et la marque Ortigia

///
Laetitia & Patrick are one.
One night, they had a craving. The desire to open a place where they could showcase their talents in common.
Laetitia like the kind of interiors where you feel good, warm and bold, full of ideas, full of forms and colors, the luminous atmospheres rich in details.
Patrick likes above all to create. Designer, artist, craftsman, he creates useful, decorative and always surprising objects, sometimes a work of art, sometimes a functional object, and sometimes both at the same time.
In few days, they found the place, a former trade of upwards of Ixelles, two steps away from the Tenbosch Park, and they have spruced it up to make from it a welcoming space ready to unveil all their finds, all their creations and all their decorating ideas.
The ground floor of the Mélèzes Street houses the store, the cellars and their workshop. TILT the shop and TILT studio were born.
TILT ? Because they have tilted. Tilted on this common desire. And also because the only real criterion of selection of objects and present creations in the store, that's because they both tilt while seeing or imagining them in their heads. When they like it, they exchange a look, they tilt.
Because TILT it's also this, Things I Love Today, the store of things and interiors that we love.
TILT universe is governed by what will make you melt, by the shapes and colors, by lights and smells, because for them, life is beautiful and it deserves all this. Together, they created a surprising and unique place, closer to the eclectic spirit and colorful San Francisco villas of Scandinavian design. They imagined a kind of harmonious wunderkammer where there are small furniture, works of art, lamps, vases, perfumes, jewelry and a thousand and one other ideas where everyone can find the big or small gift to offer or afford.
We can find in TILT creations "made in here" of TILT studio, works of art and of brands as Ortigia and many other things
TILT the shop
TILT est un magasin né de la passion de Laetitia et Patrick pour l'univers de la maison et de l'envie de partager leur goût et leur idées pour les atmosphères colorées et lumineuses.
Les objets présentés dans le magasin sont un mélange audacieux de formes, de matières et de couleurs, fruit d'un choix commun, d'une recherche qui fait TILT.
///
TILT is a store born of Laetitia and Patrick's passion for the world of housing and the desire to share their taste and their ideas for the colorful and luminous atmospheres.
The objects shown in the store are a bold mix of shapes, materials and colors, a consequence of a common choice, of a research that TILT.
TILT studio / Créations d'objets

Depuis leur rencontre, Laetitia et Patrick avaient en commun une belle énergie créative. En mettant sur pied TILT Studio, ils ont trouvé le lieu pour mettre en pratique leurs idées et créer des pièces uniques pour la maison. Des lampes, des tables, des consoles, des fauteuils, des photographies et bien d'autres choses.
///
Since their meeting, Laetitia and Patrick had in common a great creative energy. By setting up TILT Studio, they found the place to put their ideas into practice and create unique pieces for your home. Lamps, tables, consoles, chairs, photographs and many other things.
TILT Studio / Décoration d'intérieurs

TILT est aussi un laboratoire d'idées dédié à l'univers de la maison. Vous avez envie de redécorer votre intérieur ? Vous avez une idée que vous voulez développer et réaliser avec notre aide ? Vous voulez trouver une lampe, une table, un fauteuil, une photographie uniques ? TILT vous conseille et vous propose ses services pour votre intérieur.
///
TILT is also a laboratory of ideas dedicated to the world of the housing. Do you want to redecorate your home? You have an idea you want to develop and realize with our help? Want to find a lamp, a table, a Chair, a unique photograph? TILT advises you and offers its services for your home.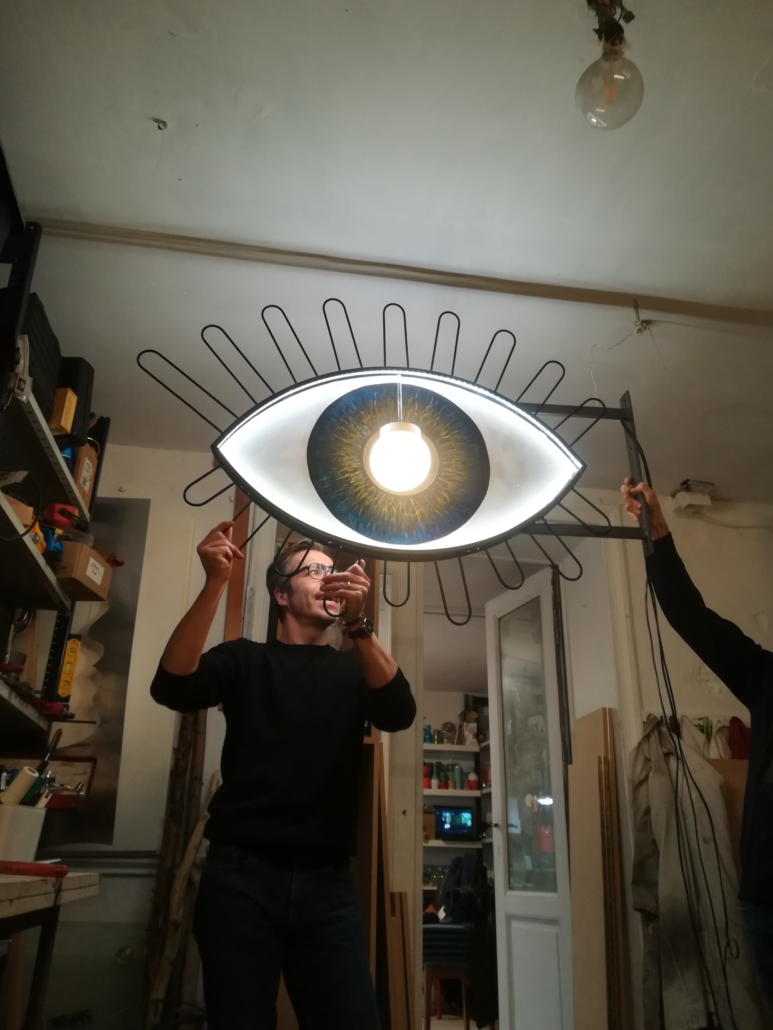 Patrick van Roy
TILT shop & studio, décoration, création et luminaires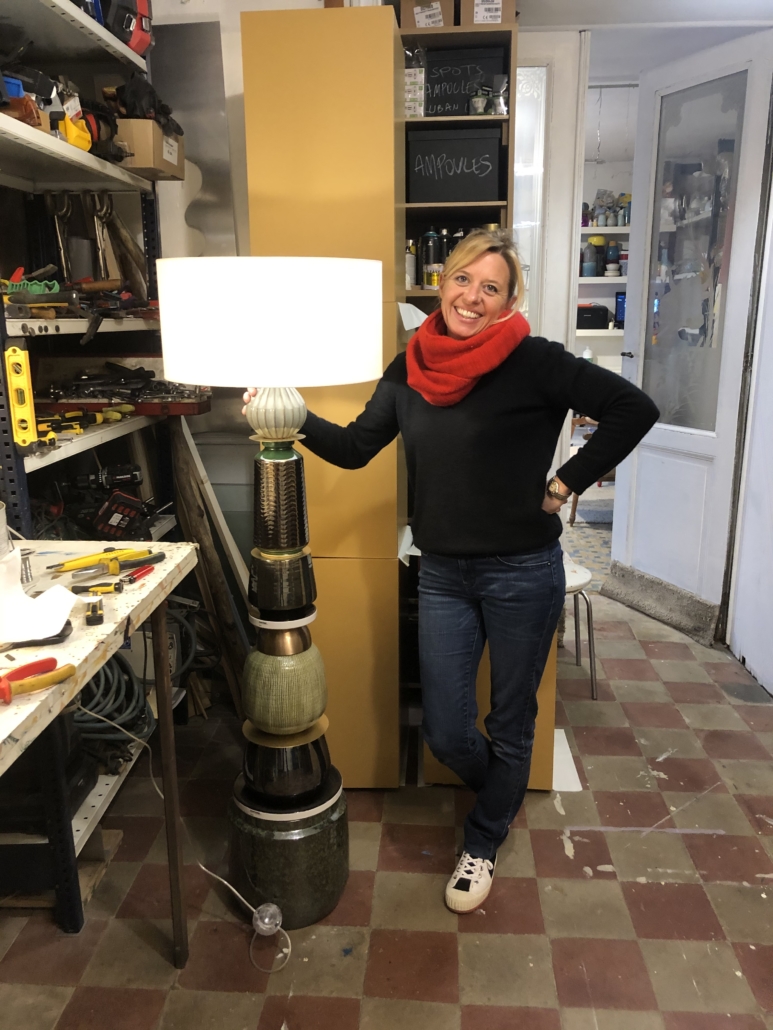 Laetitia De Moor
TILT shop & studio, décoration, création et luminaires